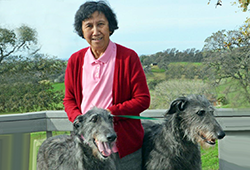 Cecilia Arnold has just one canine companion these days - a Scottish deerhound named Gwen - but there was a time when Arnold and her late husband, Edward, had nearly 20 Scottish deerhounds.
For years, the couple raised the dogs and showed them, traversing across California, Oregon, British Columbia, Colorado, St. Louis, and the East Coast, to participate in dog shows. They made about 25 champions during their dog-raising days, though Arnold is quick to point out they weren't the most well-known breeders. However, she points out, that perhaps their most exciting claim to fame is the fact that two of their deerhounds traveled to Africa to make the movie "Out of Africa" with Meryl Streep and Robert Redford.
To accomplish that, she said, it helps to be very wealthy. That wasn't the Arnolds. Edward Arnold Jr. worked for the state of California and Cecilia focused on the dogs fulltime before attending law school and later teaching at McGeorge School of Law. Still, Arnold said, she always knew they would give to the Society of Jesus.
"Ed frequently mentioned that some day when we could afford it, he would like to donate to the Jesuits because they helped him when he needed it, with a scholarship that allowed him to attend Marquette University High School in Milwaukee. He wanted to help others share in the superb Jesuit education he had received," Arnold said. "After he passed away in 2002, I would off and on remember our conversations about someday donating to the Jesuits and realized that 'someday' had arrived."
Arnold has established a life estate that benefits both the Oregon and California Provinces, reflecting her connections with the two provinces. While Arnold's ties to California are more obvious - she lives in Lincoln, Calif., her husband taught Sunday catechism at St. Ignatius Loyola Parish in Sacramento, and she attended Loyola University Los Angeles during graduate school - she also has ties to the Oregon province that began because of hymns sung in Spanish.
Arnold doesn't recall exactly how she first heard the beautiful singing by Colombian Jesuits, but she knew she wanted a CD of the music. A search for a way to buy the CD led her to the Oregon Province, which has strong connections with the Colombian Jesuits. She ordered that CD through the province about 15 years ago and has kept a relationship with the province since. Whenever she needs masses and prayers offered for friends and relatives, for example, she sends cards through the province.
Arnold's ties to the Jesuits even extend to her dogs. Years ago, the couple offered one of their deerhound puppies to the organizers of a fundraiser benefiting Jesuit High School in Sacramento. The dog, Mary, was purchased and then given to the Latin teacher, Fr. John Kelly, S.J., as a gift. She lived with him until her passing.
Arnold phased out of dog breeding and showing when she began McGeorge Law School in her 40s. Right after graduation, she was hired by the school as a supervising attorney in its in-house law clinic. During her more than two decades with the school, Arnold became a tenured professor and also directed the clinic for a number of years. She continued teaching well beyond the typical retirement age of 65 because she loved working with the students so much.
These days, Arnold is retired from McGeorge but still maintains her law license so that she can answer informal legal questions from friends and family. She also makes sure to retain her ties with the Jesuits, pleased to know that she is helping the organization and everything it does.
"When you give money to an organization like the Jesuits, it's a gift that keeps giving," Cecilia says. "I believe in what they do."