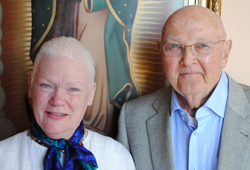 Dr. Albert R. Jonsen and his wife, Mary Elizabeth, count many Jesuits among their friends and make it a point to see them as often as possible. They will drive from their home in San Francisco down to Los Gatos for lunch with Fr. Michael J. Buckley, S.J. Every couple of months, Fr. Robert Mathewson, S.J. will visit the couple for dinner.

The conversations, says Al, are always jovial, lively, and far-reaching. After all, he has known the men and many other Jesuits for decades.

The Jonsens' decision to set up a living trust with the Jesuits as a beneficiary is a reflection of those deep connections and love for the Society of Jesus. Their gift will go toward helping the sick and elderly Jesuits in the Province as a way of giving back to the Society for Al's time as a Jesuit and as a way of honoring the men who taught and inspired him.

"What I choose to support is what has happened to me in the past and what has influenced me personally," says Al, a retired academic who taught medical ethics. "Many of those men worked very, very hard for long periods of time. They do not retire; they just go to a new ministry."

Born in San Francisco, Al grew up in the shadow of St. Ignatius Church, where his family regularly attended Mass. When the family moved to Los Angeles, there was no question about which high school he would attend.

"Loyola High School in Los Angeles was about 20 miles from our home and yet I wanted to go there and my parents wanted me to go there," he says. "We were Jesuit people and the family was strongly associated with the Society. We wouldn't even think of any other Catholic school."

Two annual scholarships from the Jesuits made attending the high school more feasible, he says, but the Jesuits' impact was much more than financial. "It really is the whole complex of an educational and personal experience that was extremely formative in my character," he says.

More than 60 years later, he can still easily recall almost all of the Jesuits who taught him there, including Fr. Terrance Mahan, S.J. and Fr. Theodore Fisher, S.J.

After high school, Al joined the Society and served in a variety of roles, including as president of the University of San Francisco. Over the course of 27 years, Al says, the Jesuits fed and clothed him, and provided him with a splendid education, wonderful teachers, and the opportunity to develop deep, lasting friendships. Al ultimately left the Society for personal reasons yet his love of the Jesuits has not wavered.

"The men that I met and knew," says Al, "were indelible influences on my life."