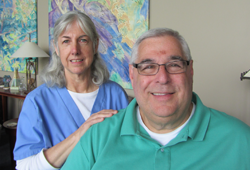 David Marano credits the Jesuits with helping him succeed in life, so when he and his wife, Nancy, discussed how they would like to allocate their assets, selecting the California Province as the main charity in their bequest just made sense.

"I looked back over all the years they've supported me and helped me and I felt it was time to give back," says Dave, a retired bank executive who lives in Gilroy. "Basically, I wanted to take care of the guys that took care of me."

That care began when Dave was still in high school. His cousin, a Jesuit, introduced him to Fr. Russ Roide, S.J., a young Jesuit priest he thought would be a good person for Dave to talk with once in a while. The two immediately hit it off as friends.

Dave liked Fr. Roide's low-key, down-to-earth manner and how easy it was to talk with him. Fr. Roide soon became regular at the dinner table. "The next thing you knew, we had three or four Jesuits for dinner," says Dave. "My mother always opened the door to all of them."

Fr. Roide continued to guide Dave throughout life, including after Dave's brief time in the order when he struggled with what to do next. Fr. Roide later married David and Nancy, as well as baptized their two children. He has been such a fixture in the Dave's lives that their daughter still keeps in touch with him whenever she needs guidance.

When Dave's mother passed away, Fr. Roide was traveling but cut his trip to Seattle short so that he could officiate the funeral.

"That speaks volumes about him," Dave says. "To this day, we're still the best of friends. We keep in touch and talk at least once a week. He's still inspiring."

In recent years, the Nancy and Dave have strengthened their connections to the Society through David's weekly volunteering at the Sacred Heart Jesuit Center, where he teaches computer skills to retired Jesuits. Nancy, a retired registered nurse, recently began working in the infirmary there several days a month.

The Nancy and Dave have asked that their gift simply go toward the care and training of Jesuits, leaving the specific initiatives to the discretion of the Province.

"Whenever I've needed anything from the Jesuits, they have been there for us," Dave says. "They would know where the need was greatest for the funds. I know the Jesuits don't spend it frivolously."

Click Here to review sample bequest language.