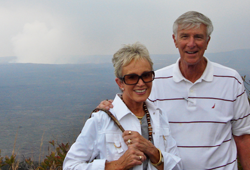 Ask about Kirch and Sharon DeMartini's wedding story and you'll not only learn the usual details of date (Dec. 27, 1966) and location (St. Mary of the Immaculate Conception in Los Gatos), but you'll also quickly understand the pivotal role Jesuits played in the wedding itself.

Sharon, whose mother worked as a librarian at Alma College, had planned the wedding for a festive time of year, just two days after Christmas. Yet because Christmas fell on a Sunday that year, businesses would be closed on Monday. No florist could guarantee they would have flowers for the wedding on Tuesday. No bakery was willing to commit to making a wedding cake.

"The whole thing suddenly became a problem, so the Jesuits came into the fray and saved the day," says Sharon, who, along with Kirch, has included the California Province in a charitable remainder trust. "Without the Jesuits, it wouldn't have been the wedding that it was."

Fr. Ron Funke, S.J. spent months creating the bouquets and other floral arrangements from pink velvet ribbon and gold tinsel, leaves, and ornaments. Another Jesuit who had since moved to L.A. offered to fly back just to make the wedding cake (a local bakery came through at the last minute). Fr. John Alhadef, S.J. was the principal concelebrant, and four other Jesuits concelebrated at the Nuptial Mass. Fr. Larry Palafox, S.J. served as the wedding photographer. Dean of Alma College Fr. Harry Corcoran, S.J. gave the wedding toast.

After the ceremony, the DeMartinis boarded the Alma bus, complete with "Just Married" emblazoned on the outside and nearly three dozen scholastics inside, and headed to the reception at the Moffett Field Officers' Club.

"Here I was in this white voluminous gown with Kirch next to me, and we were being trailed by 35 Jesuits in their black cassocks through the main dining room of the Officers' Club," Sharon says. "People eating dinner just stopped forks mid-air. It is things like that that made the wedding unique."

The DeMartinis' ties to the Jesuits began long before their wedding.

When Sharon and her mother moved to Los Gatos so that Sharon could attend Stanford University, her mother first worked as a librarian at Holy Cross High School in Mountain View. Through a connection with Sharon's aunt and uncle, who also lived in the area, her mother began volunteering in Alma College's library. Before long, she was working there under the direction of Fr. Alhadef. In her spare time, Sharon also volunteered at the library.

Both Sharon and her mother got to know the Jesuits studying and teaching at Alma College. Sharon clearly remembers many of them coming for dinner to the apartment she shared with her mother and, at other times, gathering around her uncle's grand piano to sing. They were a fascinating group of very bright young men, she says.

As a graduate of Brophy College Preparatory and Santa Clara University, Kirch also had Jesuit ties. When the two met at a St. Patrick's Day party hosted by Kirch's cousin, Sharon immediately sensed Kirch's Jesuit education. "You could just tell," she says.

Over the years, the DeMartinis lost touch with many of the Jesuits, but supporting the Society was never in question. "It wasn't like picking some random charity," says Sharon. "They were like family to us."

"We both agreed that the Jesuits were a big part of our lives, so we thought they ought to be part of the trust," says Kirch. "As for the California Province, that's the source of the people who educated me. And with Sharon's mom having worked for them, our associations with the Province are very positive. We believe in what they're doing."

As a reminder, their Christmas tree every year displays several floral arrangements from their wedding made possible by the Jesuits.