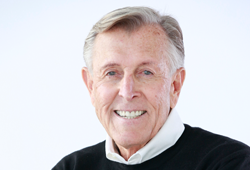 Jack Perry knew nothing about the Jesuits when an article in his local newspaper caught his eye—a community group was working to start a Catholic high school in Palm Desert.

Jack and his wife, Judy, both converts to Catholicism, were so moved by the idea that they sent a check for scholarships at what would become Xavier College Preparatory High School. But that was not enough for Jack, he needed to do more.

"I thought, 'I've got to know more about the Jesuits,'" says Jack, author of "Jack, You're Fired! 66 Ways To Keep Your Job As A Sales Professional."

He traveled to Brophy College Preparatory in Phoenix and spent the day learning about the school - and the Jesuits. A visit to Loyola High School of Los Angeles also left him impressed. He planned a trip to the Bay Area for personal reasons and so he could meet with Fr. William Muller, S.J., then Provincial Assistant for Secondary Education. Fr. Muller, says Jack, patiently answered his questions about the Jesuits' 450-year history of education.

In fact, says Jack, all the Jesuits he met with were warm, inviting, and happy to share. As he learned more about the Jesuits, he asked probing questions of Fr. John Mossi, S.J., visited Loyola Productions, a nonprofit creative media company headed up Fr. Eddie Seibert, S.J., and began to realize how well the Jesuit mission ties in with his and Judy's.

"Judy and I have three foci: the poor, education, and the Church," he says. "The Jesuits fit all three."

Jack was especially impressed with the Jesuits' commitment to being contemplatives in action as well as their dedication to caring for older Jesuits. "They walk their talk," he says. "They're focused and they deliver." He also began to more fully appreciate the impact of a Jesuit education.

"They build people for other people," Jack says. "They teach them to be humble, to be gracious, to care. It is a stunning transformation. I've met several men that are about my age who went to Jesuit high schools and they are remarkable guys. They all say, 'It's as though they put a stamp on me.'"

As the couple considered opportunities to help others, they focused on the Jesuits and put the California Province in their will.

"I believed they would continue on their mission and path to education and to help the poor," Jack says. "Plus they take care of their own. It touched me, it really touched me. There's no lip service. They just do it."