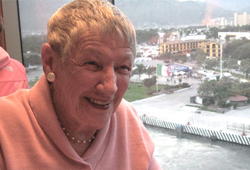 Mountain View resident Judy Hurley has remembered the California Province in her will in large part because she followed a piece of advice her father once offered.

"If you ever have a problem with your faith," he told her, "go see a Jesuit."

That's precisely what she did in the mid-1980s when she found herself going through a painful separation and, ultimately, divorce, with two children in tow. When Judy saw that the Jesuit Retreat Center of Los Altos was offering a weekend retreat for separated and divorced Catholics, she scraped together the money to attend.

As Hurley listened to Fr. John Mossi, S.J. leader of the retreat, Judy was immediately impressed with his knowledge of scripture and what she describes as objectiveness in talking about separation and divorce. He focused on getting participants to think about their next steps and their expectations, rather than dwelling on the situation.

"It wasn't going to be, 'Oh, you poor thing,'" Judy says. "He was clear, concise, and objective and that's exactly what I needed."

With Fr. Mossi's guidance at the retreat, Judy started to understand that no matter what was going on in her life, God loves her. Her pain, she learned, she would help resurrect her spirit. She had found a spiritual director and close friend in Fr. Mossi.

"With Fr. Mossi, I feel as close to him as I would with my own brother," Judy says. She has remained close with Fr. Mossi over the years, checking in with him from time to time as a way to help discern God's direction for her.

"Without the Jesuits, I would have been very empty and with no sense of direction," says Judy, who credits the Jesuits with deepening her faith. "Those things are not easy to feel."

Thankful for the support and guidance she has received, Judy would like her gift to help pay for the education of young Jesuits, so the Society of Jesus can continue its good work all over the world.

Her commitment to the Jesuits does not end there. Judy has also begun volunteering with Companions in Ignatian Service and Spirituality. Two years ago, she completed the 30-day Spiritual Exercises retreat.

"As long as I'm here, in whatever little way I can, I will support the Jesuits," Judy says. "I want to give back because they've given me so much."